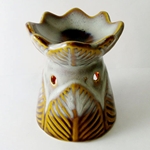 These lovely, quality ceramic oil burners are perfect for gently heating your favorite essential oil, creating a gentle, long-lasting aroma that will fill any room. Stands about 4" tall and comes complete with a set of 10 unscented tea lites.

Click image for larger picture...
Click here for more info...