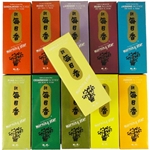 Morning Star has been one of the best selling Japanese Incenses for almost 35 years and it is not only one of the best incenses we have found, but is also one of the Top-Sellers here at SpiritualScents. This incense is both high quality and extremely affordable, making it the perfect Mainichi Koh - everyday incense. These incenses do not contain wood cores, and are made from pure powders and oils for ultra clean burning. Use Koh at home when you have company or family gatherings, or while you listen to music, read, or wish to relax or meditate. The elegant fragrance will create a mood of tranquility, peace of mind, and will relax the spirit and body.

Choose your favorite scent below...
Click here for more info...